Food in Malta is a pretty big deal. Maltese cuisine is typically Mediterranean in that it relies heavily on locally available produce such as tomatoes, honey, olives and other vegetables.
Culinary influences include a mixture of Sicilian, French and North African cuisines, although British occupation has also left its mark: locals very much enjoy their tea served with a splash of milk. 
Very much inspired by local produce, traditional recipes passed on through the generations and having similarities in flavour influences to neighbouring countries, yet unique in its approach to freshly available ingredients, traditional Maltese food is something you just need to try.
Sunseeker hotel is located in the heard of Bugibba with over 100 restaurant available most of which withing walking distance. Here are some our favorite Maltese dishes that have come to represent the island and its rich cultural heritage.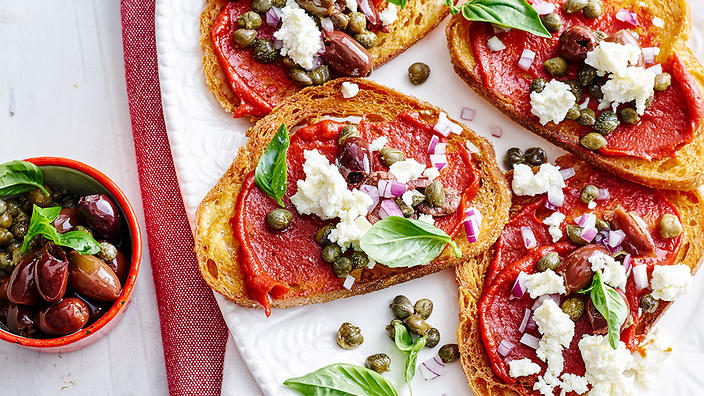 Ħobż biż-Żejt
Ħobż biż-żejt literally translates to 'bread with oil'.  This traditional Maltese snack is popular among locals all year round, but especially during the summer months. Ħobż biż-żejt usually consists of a crusty sourdough bread known as ħobż tal-Malti or else a ftira, a disc-shaped, crusty and semi-flat bread with a hole in the middle.  The bread is typically rubbed with fresh Maltese tomatoes or tomato paste.  It is then drizzled with olive oil and filled with tuna, capers, onions, olives, garlic, sea salt and pepper.  However, what the bread is filled with differs depending on each person's preferences.
Stuffat tal-Fenek
Stuffat tal-fenek, or rabbit stew, is one of the most popular ways to cook rabbit meat in Malta.  The stew is cooked slowly, over around 2 hours, in order to bring out all the rich flavours.  The stew is tomato-based, and includes readily available local vegetables such as onions, garlic, carrots, potatoes, and of course lots of tasty Maltese tomatoes!  Locals regularly enjoy a fenkata, or 'Maltese rabbit nights', where they come together to eat and celebrate. A fenkata would normally begin with a starter of Maltese water biscuits with bigilla, or mashed beans, followed by a plate of spaghetti with a rich rabbit sauce.  This is followed by the main course, which is traditionally rabbit meat cooked with white wine and garlic, served with fried potatoes or chips.  Finally, ħelwa tat-tork is served as a sweet dessert.  This traditional sweet is made out of sugar, tahini and almonds.
Timpana
Timpana is a baked macaroni dish.  The recipe is thought to be adapted from Sicilian cuisine and is – let's be honest – macaroni enclosed in a pastry. Traditionally, the dish was prepared for a Sunday meal, but this was during a time when women were still taking their large trays of food to the communal ovens in the village bakeries.
The timpana is nowadays prepared as an entrée for Christmas lunch, followed by turkey. It is prepared with penne-shaped pasta, blended in a rich tomato and minced meat sauce, mixed with eggs and cheese. Finally, the whole mixture is wrapped in a shortcrust pastry and topped off with a flaky puff pastry.
Pastizzi
Of course, you cannot visit Malta and not try one of the most popular snacks on the islands – pastizzi.  These warm, savoury pastries are traditionally made out of filo pastry or puff pastry and are filled with either warm ricotta cheese 'tal-irkotta' or mushy peas 'tal-piżelli'.  They are cheap, delicious and addictive, with pastizzerias  found all over the island.  Pastizzi are popular snacks at any time of day, all year round and taste great with a cold glass of Kinnie, Malta's own soft drink which has a bitter sweet taste.  Pastizzi have become so popular in recent years that various cafes and restaurants in other countries, such as the UK, Australia and Canada have also started serving this delicious snack.
Sunseeker Holiday Complex
Trejqet il-kulpara,
St Paul's Bay, Malta